Hasbro Monopoly Deal Card Game
The Monopoly Deal card game is all the fun of the Monopoly game in a quick-playing card game.
Last items in stock
Tax included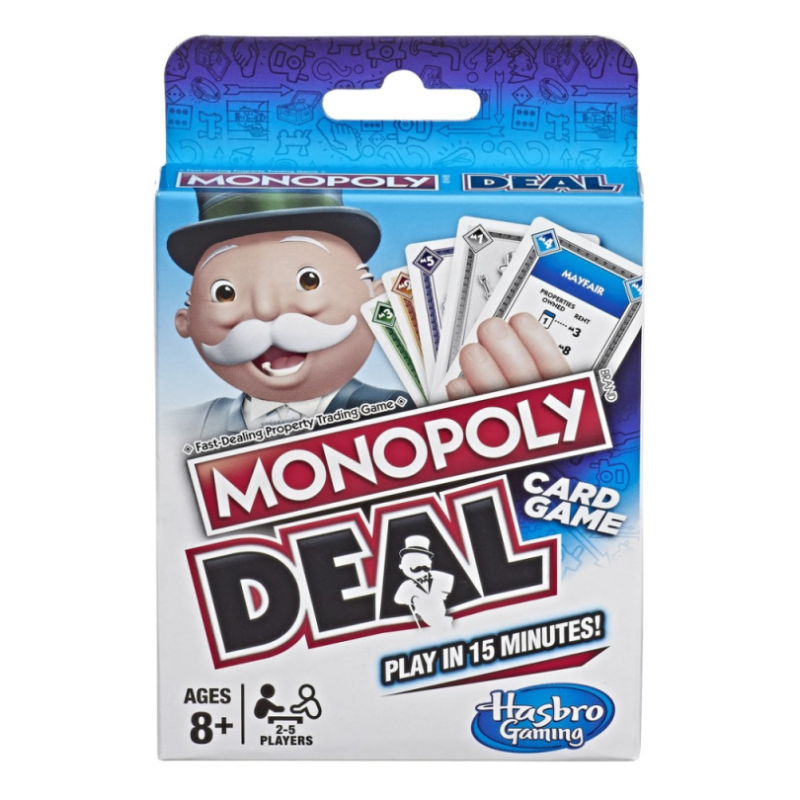 zoom_out_map
Description
Product Description
The Monopoly Deal card game is all the fun of the Monopoly game in a quick-playing card game. It comes with 110 cards including Property Cards, Rent Cards, House and Hotel Cards, and Wild Property Cards. Action Cards let players do things such as charge rent and make tricky deals.
House and Hotel Cards raise rent values. Wild Property Cards help players build Property sets. And, players pay their debts with Money Cards. Be the first player to collect 3 complete Property Card sets in different colors to win. This card game is a great way to play the Fast-Dealing Property Trading Game in as little as 15 minutes!
Suitable for 8+ years
Includes 110 cards including property cards, rent cards, house and hotel cards, and wild property cards
Property trading card game
Ideal for 2 to 5 players
Play time: 15 minutes
Use Action Cards to charge rent and make tricky deals
Collect 3 Property Card sets to win
Reviews
Reviews
Reviews
No customer reviews for the moment.
Customers who bought this product also bought:
Stunning LEGO® brick International Space Station for display
16 other products in the same category:
Exploding Kittens NOT SAFE FOR WORK Edition is a card game for people who are into kittens and explosions and boob wizards and sometimes butts
Build towers high into the sky and experience an all new way to play tile-laying classic Carcassonne in The Tower expansion!
Keys to the Castle  is a fast-paced fun-filled game based on strategy and luck, where your fortune rests on the turn of a key!  Race against your fellow knights through the castle, where behind every door awaits a surprise.
Expancity is a city-building game in which players both collaborate and compete to build a thriving metropolis block by block!
Carcassonne is a tile-placement game in which the players draw and place a tile with a piece of southern French landscape on it. 
All you other role-playing games can keep your silly 20 sided dice and Psicrowns of the Crystal Mind (whatever that is). Give us Boots of Butt-Kicking and Magic Missiles! We want to slay the Great Cthulhu, not those boring flumphs and faeries.
For about thirty nail biting minutes, players' nerves are tested to the limit by the threat of the ticking bomb.
Name That.... Person, Place, Thing - the quick thinking name game!
Protect your organs while attacking your friends' organs in this hilarious and competitive party game.
A new twist on an old favourite!
112 more cards for the game of killing monsters and taking their stuff. Play a new race: Orcs!
Santorini is a strategy-based board game that's exhilarating and intellectually challenging! Play together and make family game night even more fun!
The Cranium Game is outrageous fun and gives players a chance to show off their talents! 
An 'on the road' scrabble. A fast and addictive language tool.
Codenames can now be played with pictures! Whimsical, mind-twisting illustrations are used instead of word cards.